Tour Programmes
Two one-day bus tours on 26 May (Saturday) have been arranged by a travel agency for sightseeing tour in a water village (Wuzhen) and the garden town (Suzhou) located adjacent to Shanghai. These two tours are provided for your choice, and the tentative schedules are provided.
Tour1: One-day Tour of Wuzhen (528RMB/Person)
Tour2: One- day Tour of Suzhou (398RMB/Person)
[Top]Tour 1: One-day Tour of Wuzhen (528RMB/Person)
About Wuzhen
Wuzhen lies at the north of Tongxiang City of Zhejiang Province, China. The town lies on the Hangzhou-Jiaxing-Huzhou Alluvial Plain, with no hills but interlaced rivers. Due to its warm and humid climate, and abundant rainfalls and sunshine, the products here are rich, making Wuzhen well-known as "the town of fish, rice, and silk".
Wuzhen enjoys a history of over 1,000 years since its establishment in 872 A.D. The traditional buildings are still well preserved after crossing so many rough years. It is just like a natural museum of ancient architecture. In the town, watercourses and flagstone streets extend in all directions and intercross here and there. The native residents live peacefully in their old houses by water, just like their ancestors do before a long time.
Wuzhen has become a living fossil of ancient oriental civilization for its profound history and culture, graceful water town scenery, unique-flavoured delicious foods, various and colorful folk-customs and festivals. It's a kind of beauty that naturally endowed. While displaying the extraordinary charming of Chinese ancient culture and the soul of the oriental life, Wuzhen has become a disseminator of traditional culture and an emissary of the communication between China and foreign countries.
Tour Itinerary

| | |
| --- | --- |
| 07:30 | Departure from Shanghai to Wuzhen by tour bus |
| 10:00 | Arriving at Wuzhen |
| | Tour of Dongzha Scenic Zone |
| 12:00 | Lunch: Jiujianglou Restaurant |
| 13:30 | Tour of Xizha Scenic Zone |
| 16:00 | Leaving for Shanghai |
Provide Standards: based on at least 20 persons
Anticipated Price: 528RMB/Person
Website: http://www.wuzhen.com.cn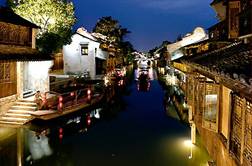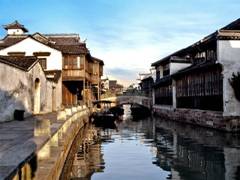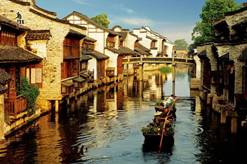 [Top]Tour 2: One- day Tour of Suzhou (398RMB/Person)
About Suzhou
A historical and cultural city of fame and a famous scenic and tourist city of China, Suzhou is located in the south-eastern part of Jiangsu Province. Suzhou is a city with historical significance and beautiful landscape gardens. It is regarded as "heaven on earth" with Hangzhou City. Its classic gardens were placed on the list of UNESCO World Cultural Heritage Sites. It is also a production base of fine silk.
Tour Itinerary

| | |
| --- | --- |
| 08:00 | Departure from Shanghai to Suzhou by tour bus |
| 09:30 | Arriving at Suzhou |
| | Tour of the Humble Administrator's Garden: The garden is the best representative of Chinese classical gardens, constructed in the Ming dynasty, which focuses on a central pond with pavilions, terraces, chambers, and towers located nearby. At 5 hectares the largest of these beautiful gardens, it is one of the most famous one. |
| 12:00 | Lunch: Lijing Water Garden Restaurant |
| 13:30 | Tour of Three Views of Pan Gate: the famous three views are the Ancient City of Suzhou Doors, Burghardt Towers and Bridges Wu |
| 15:00 | Free time on Guan Qian Street |
| 16:00 | Leaving for Shanghai |
Provide Standards: based on at least 20 persons
Anticipated Price: 398RMB/Person
Website of the Humble Administrator's Garden: http://www.szzzy.cn/